HX300SL
NEW EXTERIOR DESIGN FOR ROBUSTNESS AND SAFETY
The true value of the HX Series lies in its durability. The robust frame structure and
the attachments show the real value of the HX Series in tough working environments
and promise higher productivity.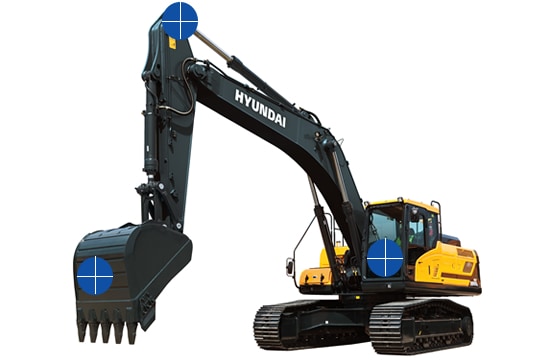 Reinforced Durability of Upper and Lower Structure and Attachments
The upper and lower structure and attachments of the HX Series have higher durability than demanded on the site, as proven through numerous tests including road tests and virtual simulation. The wear resistance of the bucket has been improved by use of new material.
Cab
Many electronic functions are concentrated on the most convenient spot for operators to ensure work efficiency. The highly-advanced infotainment system, a product of HHI's intensive information technology, enables both productivity and pleasant work at the same time! The HX Series of HHI provides higher value and pleasure to customers.
Robust & Safe Structural Design
Reinforced Pin, Bush, and Polymer Shim The HX Series improves lubricity of connecting parts between the equipment and attachments. Gaps with attachments are minimized by wear-resistant long-life pins, bushes, and polymer shims, supporting the highest performance with invariable durability.
Wear Resistant Cover Plate A wear-resistant cover plate is installed at the end of the arm to minimize abrasion on the connector between the arm and the bucket. Vibration reduction of buckets enables more stable operation even in high-load work